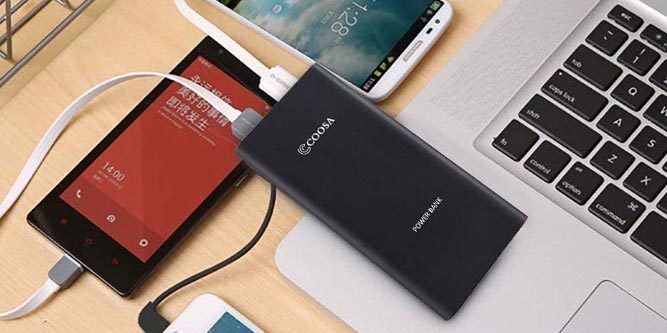 Detailed Review of the Nunet Nucharger PD Power Bank
By TechGuru, Originally from: nerdtechy.com 
Anyone who spends a lot of time with their mobile devices will understand the dread of seeing that low battery life indicator. What causes more anxiety than your battery bars running low? Fortunately, avoiding that problem is usually as simple as getting a power bank.
Unfortunately, finding a power bank that's worth using can be tricky. You've got to look into safety concerns, style, and of course its ability to charge your stuff. And if you're looking for something budget oriented, then you want to avoid running into cheap knockoff power banks in the process. Because getting the wrong charger can be more trouble than its worth, in more ways than one.
Nunet Nucharger PD Power Bank
Then again, sometimes it can be easy to find the right charger. The Nunet Nucharger PD Power Bank is an attempt to make a device that's easy to pick for a lot of different people. That's because this power bank crosses a lot of essentials off the checklist of essentials for such a device.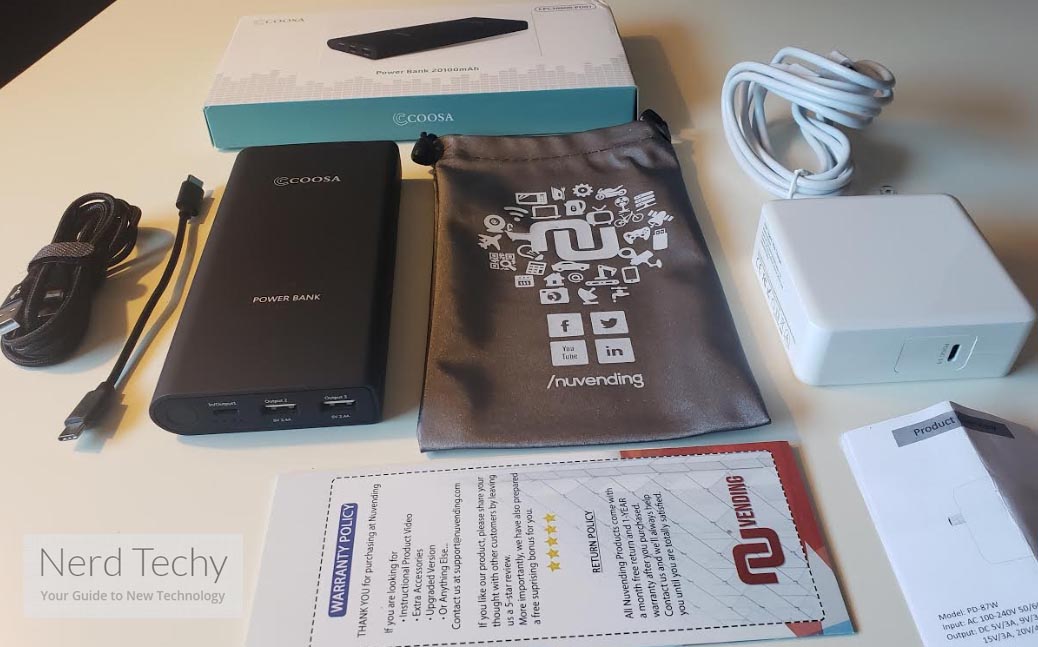 For instance, the PD Power Bank was built to be fairly portable. All large batteries are invariably somewhat large and weighty, but the PD Power Bank was designed in such a way that it really comes close to being as portable as your smartphone. And when it comes to recharging your stuff, this power bank has more to offer than sheer capacity.
It also has significant throughput, supporting enough wattage to be able to recharge more power-hungry devices, like laptops and tablets. That's not something you tend to see on power banks that are this small, it's more common on the sort of power banks you find sold for people going camping.
Design & Construction
The Nunet PD Power Bank measures 8.6 x 4.3 x 1 inches. A pretty compact design that vaguely resembles a smartphone without a screen. Though it's considerably heavier than your typical smartphone, weighing about 14 ounces. Not enough weight to be an issue, but enough for you to tell the difference while carrying it in your pocket.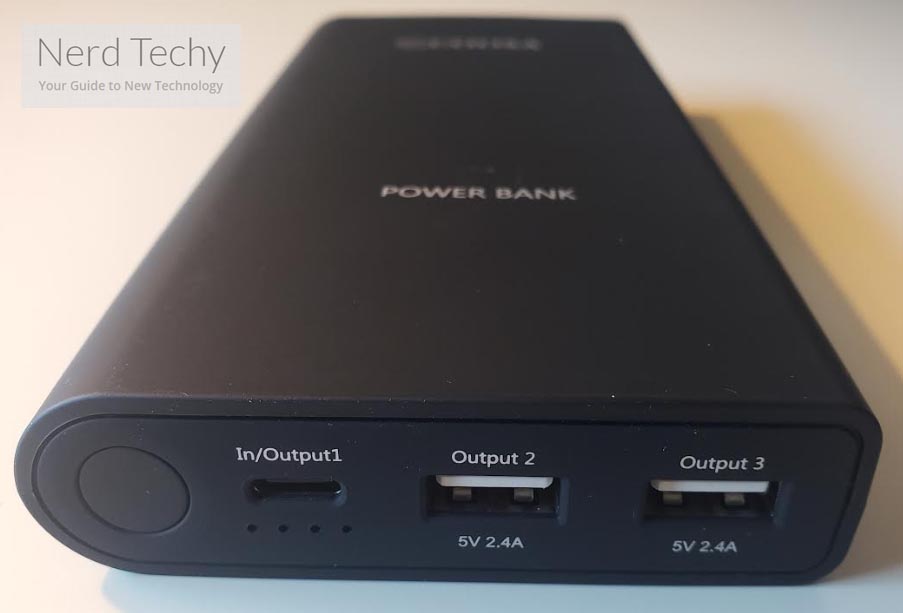 For the most part, this power bank looks pretty similar to almost any other. But there are a number of small design decisions that help distinguish it from similar designs. For instance, the front side has a large power button, which is slightly recessed into the chassis. That allows the power button to remain accessible and easy to use, while reducing the chance the power bank will be accidentally turned on in a number of different circumstances. Perhaps most notably, it won't be automatically turned on when positioned to stand on its end.
The chassis is largely composed of ABS plastic. It doesn't look like an especially fancy material, but it's somewhat shock resistant, and it does very well with heat dissipation. Two qualities which make it excellent for relatively delicate electronic devices like the PD Power Bank. For a run of the mill power bank, ABS will get the job done.
If you're planning on going into some kind of rugged terrain, or you anticipate the power bank will get banged up from time to time, then it can make sense to go out of your way to find some kind of aluminum exterior. Power banks constructed with a metal exterior are not that much more expensive, but the extra cost really is only worth it if you expect enduring small bumps and bruises to be a way of life for your device.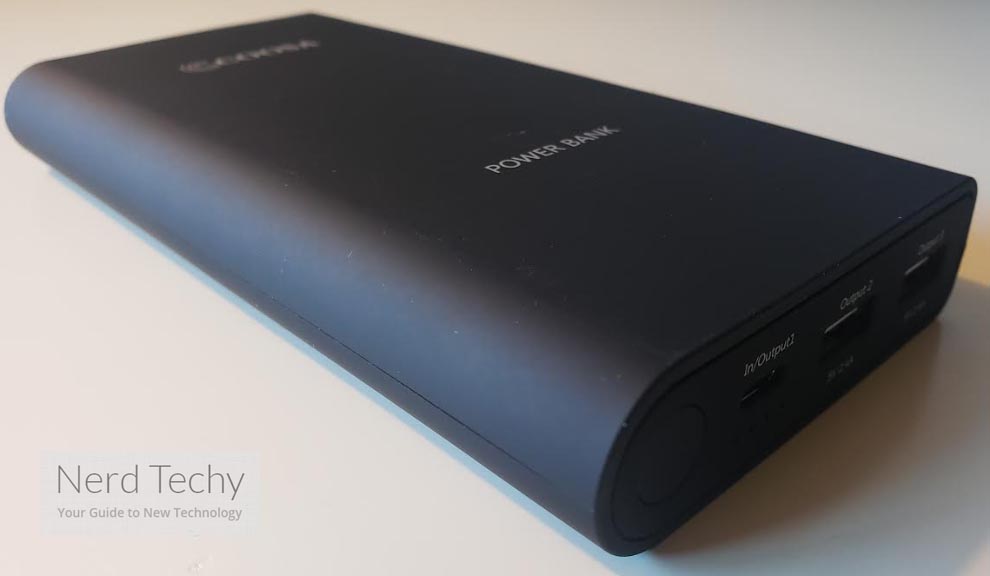 Port Interface
On the front face of the device you'll find there are two USB-A ports, and a single USB-C port. That's probably the smartest and most balanced way to design a power bank these days. Though this kind of layout isn't the right choice for everyone, it's certainly going to be the right choice for most people in most circumstances.
Because USB-A connections still outnumber USB-C connections. And whether or not you're actually married to USB-C at the moment, it's almost certainly going to be in your future as the format continues to become more ubiquitous over the next few years. Smartphones are already finishing up their move to the USB-C format, for instance.
Ports aside, another highly significant portion of the interface is the four front battery indicator LEDs. For the most part, these indicators tell you exactly what you would expect about the status of the battery. But more than just regular lights, these are actually intelligent LEDs that let you know exactly what's going on with the status of your charge. That way you can know when your stuff is charging, how much further it needs to go, and when it's done. And using multiple devices at the same time won't get in the way of that.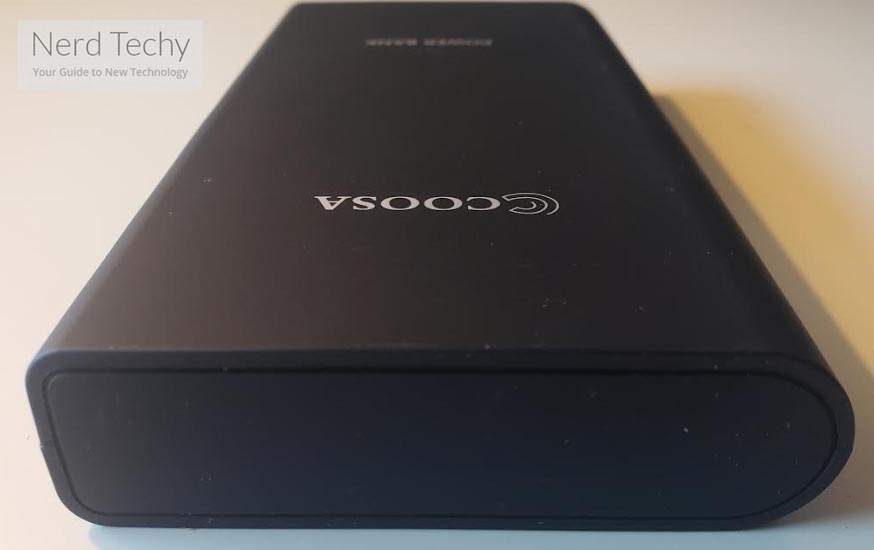 Battery Capacity
When you're picking a battery power bank, you generally want to select the largest charger that you can live with. Because bigger chargers are going to be able to deliver far more battery life. The flipside is that they will invariably be larger and heavier, too. Nobody really wants to carry around a brick with them, and there are actually limits to the size you can carry onto an aircraft.
If the sky is your limit, in a literal sense, then you generally want your charger to be rated below 27000mAh. That rating isn't actually the only information you need; you also need to look at the voltage in order to determine watt hours. But 27,000mAh is a good approximation that works for most chargers like the PD Power Bank. You won't have a trouble getting this charger onto commercial aircraft.
Because this device was constructed with a cylindrical lithium-ion battery offering 20100mAh, which is quite sizeable. How much battery life does that really translate into? Well, it depends on the device you're trying to recharge. For instance, it provides about six charges of an iPhone 7. But if you're trying to recharge something with an enormous battery, like a MacBook, then you're only going to get about one charge from it. When you're using a larger tablet like an iPad Air 2, you might get as many as two charges.
For safety, the Nunet Nucharger provides overcharge and over-discharge protections. There are also input over voltage protections and output over voltage protections, and short circuit protection. There's an automatic power off feature to ensure you don't waste power.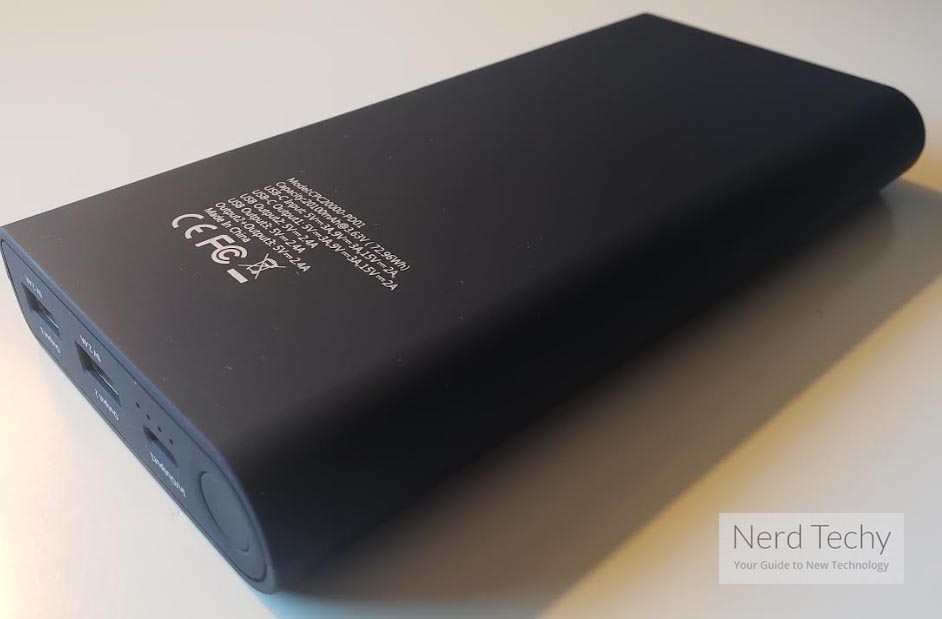 Recharge Ability
There are really three things to keep in mind about recharging stuff with the PD Power Bank. The first is that you're dealing with a large 87W USB-C connection. That's capable of supporting a number of powerful laptops. In fact, it's only when you're starting to look at enormous 18" gaming laptops that you really start to break well beyond those limits.
The USB ports themselves are speedy, too. That's largely on account of the presence of a QC2 and QC3 USB port. The USB-C input is 5V to 15V 2.4A or 3A. The USB-C port is the only port that can draw 3A, the USB-A ports are limited to 2.4A. That allows you to get the fastest recharge speeds that most modern devices can provide. Assuming only that you're using the appropriate cables so your speed doesn't get bottlenecked. Such cables are included, naturally.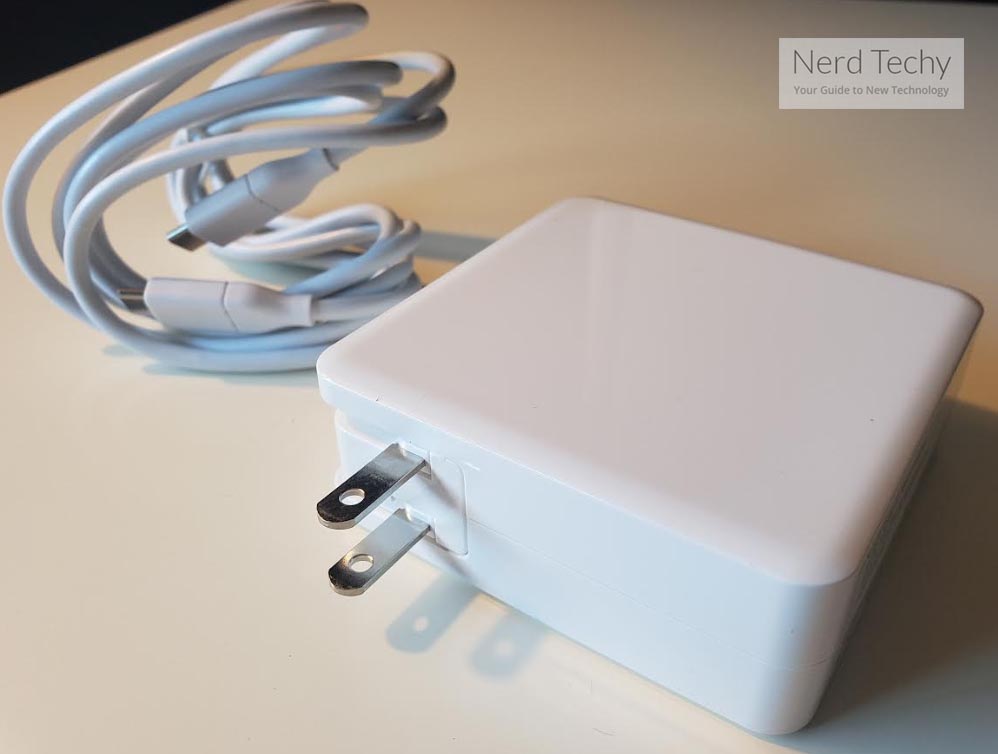 Included Extras
Moreover, the PD Power Bank includes a carrying bag. The bag really isn't anything special, it's basically a piece of thin nylon with a drawstring at the top. It's not particularly waterproof or protective, but it does provide you with a simple way of shoving the Nucharger somewhere with your USB cables in tow.
Speaking of USB cables, this charger includes a USB-C charging cable, and a micro USB 3-in-1 charging cable. It also includes a one-year warranty from Nunet, a Los Angeles based company. Though that warranty only covers defects, it doesn't cover regular wear and tear.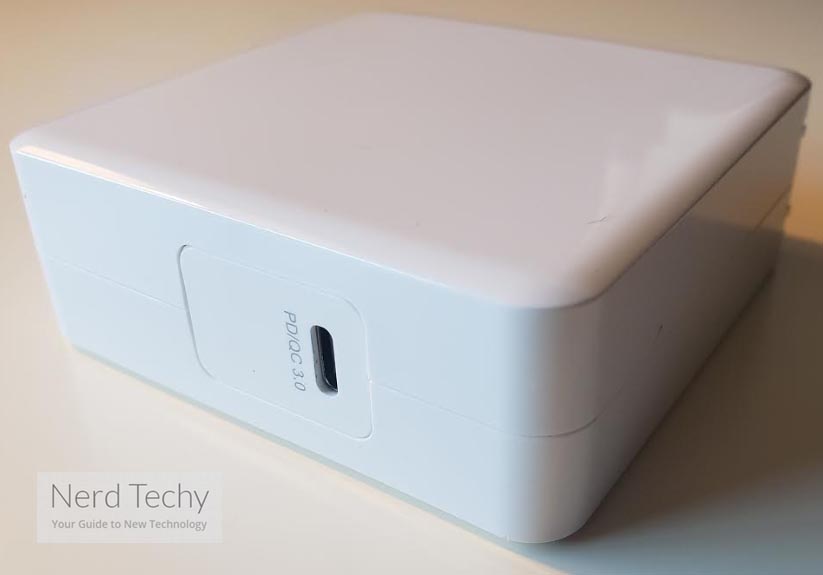 Wear and Tear
Any battery life this one will experience regular wear and tear as you charge and recharge it. In fact, you can expect to get about 1,000 complete recharge cycles from this battery bank before you'll want to think about replacing it. What does that mean in a more practical sense?
For people who make heavy use of the power bank, that means you'll want to think about replacement around the two-year mark. After a single year, the capacity of this battery will have fallen down towards 18000mAh, and that's assuming you're treating the battery well. For people making lighter use, it's possible to keep this power bank running well for as long as five years before you're really better off with a replacement.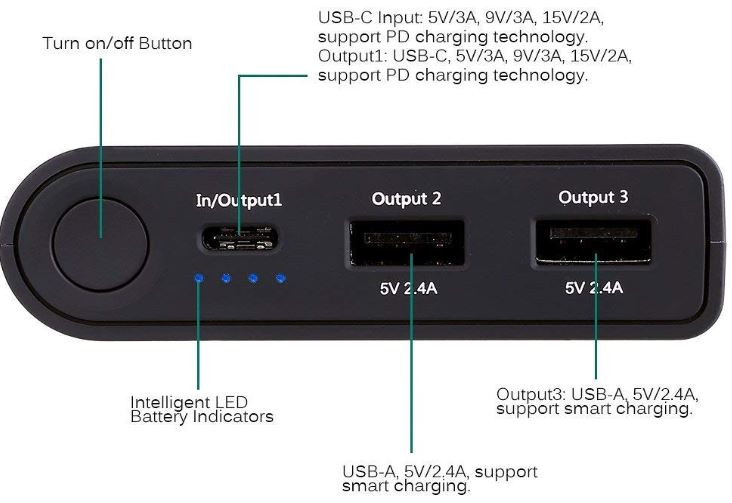 Who Should Choose the Nunet Nucharger PD Power Bank?
The Nunet Nucharger isn't the right charger for everyone. Sure, this charger is portable. But if you're looking for portability above all else, then you'd want to consider a charger that had some way to help you store cables on the device itself, something like the Goal Sherpa 15, where cables extend from the chassis.
If you were looking for a charger that's made to endure the elements and rugged terrain, the once again, the Nucharger is probably not right choice. Its construction can take a spill, but this charger was made with more mundane use in mind.
All in all, the goal of the PD Power Bank seems to be providing a streamlined approach to recharging your stuff. The design is pretty straightforward and intuitive. Though this isn't the most stylish power banks you'll ever come across, it's bland professional exterior is certain to find many fans.
Which makes the Nucharger PD Power Bank a good choice for someone who needs to charge more than one device, and a good choice for someone who wants to utilize both the USB-C and the USB-A format. Whether or not you're using USB-C right now, you'll almost certainly be using it eventually. If you can take advantage of it now, the PD Power Bank comes included with an 87 W USB-C charger that really outclasses many similar power banks.
---