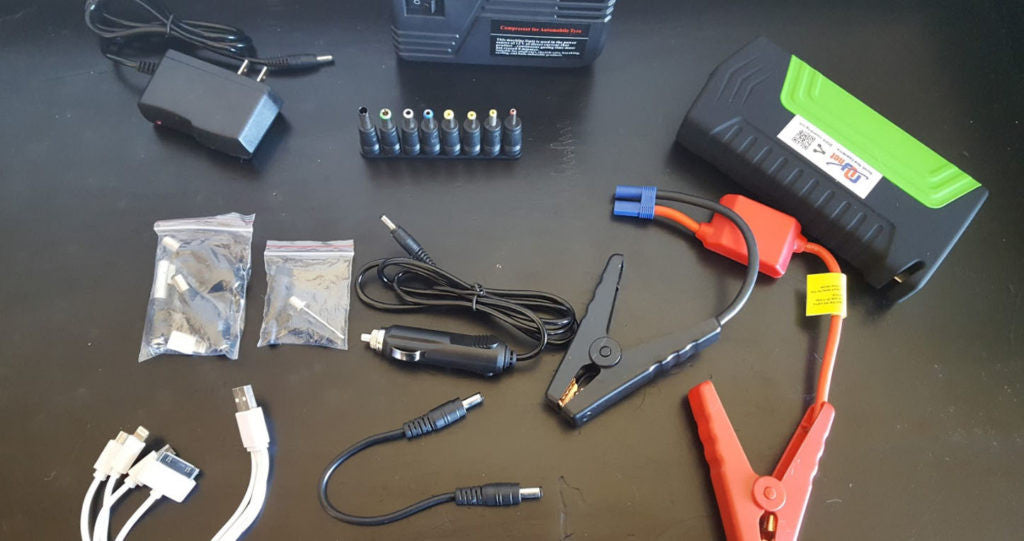 NUCHARGER PJ16 MULTI FUNCTION JUMP STARTER REVIEW
See Original Post: NUCHARGER PJ16 MULTI FUNCTION JUMP STARTER REVIEW from survivaljunk.com
Author: admin
Hello survivors!  Today I have another exciting product from my friends at NuVending.com – they were extremely gracious and sent me this fantastic kit.  It's the NUCHARGER PJ16 Multi Function Jump Starter.  What is that you ask?  Well, it's quite a lot of different things.


The kit comes in a hard black plastic case, with all the various items neatly tucked away.  The meat and potatoes of this kit include:
150psi Air Compressor that can be used on anything from a bike to a car tire,
A Car battery jump starter
A power bank that can allow you to charge your electronic devices
an emergency flashlight that is attached to the power bank
Various safety tools
 The Nucharger kit neatly packed into its hard plastic casing.
This little kit has so many uses, it's quite impressive actually.   The most important part of the NUCHARGER PJ16 Multi Function Jump Starter is the power bank, which is about the size of a large cell phone.  It's got some heft to it and doesn't feel flimsy – it's quite well made and features a colored rubberized gripping surface.  The one I received was a lime green ( my favorite color is green so yay for me!)    You have the choice of yellow, green or red. This is what powers most of the functionality of the kit.  It can be charged via a power outlet.  There's a few other little bonus features to the power bank as well.  It's got what appears to be a seatbelt cutter notched into one end, and the other end serves as an emergency hammer if you needed to break out the glass of your vehicle in order to escape it.
 The many adapters and cords that are included in the kit!
That's where all the magic happens – from this power bank you can charge your cell phone, jump start a vehicle,  or pump up your tires.  It's a really clever and diverse amount of things this little kit can accomplish for you.  The trick, though is keeping the battery bank charged up in case of an emergency.   I found one of the most impressive aspects of the NUCHARGER PJ16 Multi Function Jump Starter to be the amount of included adapters it comes with – there's a 4 in one mobile phone adapter that will cover Samsung and Iphone devices, there's a 12 V car charger that can be plugged into a cigarette lighter, and then there are various home adapters as well!  NuVending did not leave any plugs un plugged with their kit!
 POWER ON!
This is a fantastic addition to any person interested in being prepared, especially if you're one who travels a lot.  Imagine being stuck out in the middle of no where with a dead car battery, wouldn't it be awesome to be able to pull out this little guy and jump start your vehicle?
To view the product directly on Nuvending.com, click this link.  With Father's day coming up, this would be a practical and awesome gift to get your old man!  Thanks again for letting me check out this product!!!!
---