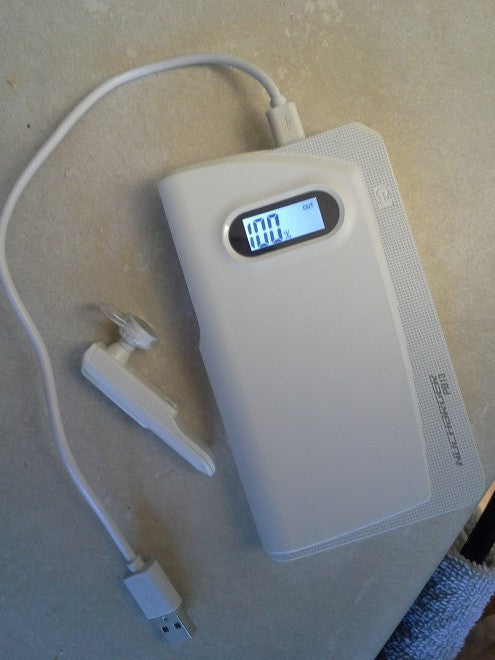 The NuCharger PB13 Is the Best Powerbank of 2016
See Original Post: The NuCharger PB13 Is the Best Powerbank of 2016
 Author by:Brian Penny
All week I've been getting random congratulation messages on LinkedIn. I forgot we recently passed my 5-year anniversary as a whistleblower and freelance writer.
It doesn't feel like it's been that long already, but I'm 35, and it wasn't long after skydiving for my 30th birthday that my whole life changed.
Since leaving the bank, I adapted to a mobile lifestyle, living out of (and in) multiple vans, couchsurfing, and travelling the west coast to keep up on the trade show circuit to scout stories for my blogs.
To monetize the site, I mostly steered away from whistleblowing and political subjects, opting to focus on things I enjoy. I'm already a whistleblower, and my fate is sealed regardless of the subject matter of my writing. Although I do still actively keep up on current events, I typically sell the serious news pieces to serious news sites, filling this blog with lighter fare.
Back in November, I reviewed several pieces of tech I received during CTIA Super Mobility Week in Las Vegas. One of these items was a powerbank from NuVending called the NuCharger PB13.
Even back then, I was impressed with this particular powerbank, not so much for the included bluetooth headset (which I've still never used), but for the dual 3-Amp charging ports.
Living mobile, power consumption is a real problem, and I'm constantly on the lookout for ways to keep everything charged on the go. I've owned a variety of powerbanks from GoalZero, EnerPlex, ibattz, and more, but they all have, at best, one 2.1-amp charging port, and one 1-amp charging port.
This simply isn't enough to keep a high-end phone or tablet charged.
Initially I tested the NuCharger PB13 on my ASUS Transformer tablet, as I found the other portable chargers simply weren't powerful enough to push the power up while the device was on, and it still drained when watching a movie or playing a game, making these external batteries absolutely useless.
Although it drained quicker than the competition, the PB13 had no trouble fully charging the battery on the Transformer tablet. Unfortunately, the tablet didn't make it to the end of November.
Having used it as my sole computer since my laptop burned out while I was held in Tent City, the tiny tablet had a short lifespan and the battery and screen soon burnt out. Luckily by then I had already built my VR-ready desktop rig and was able to continue working.
This month, after seeing all the new tech at International CES 2016 in Las Vegas, I was inspired to supplement my desktop PC with a modular Android system. Next week, I'll finally be able to purchase the Auravisor Android-powered headset I demoed in the video above, but this month I purchased an Nvidia Shield tablet.
Since the Transformer ran Windows 10, the Shield tablet is the first Android tablet I ever owned. Prior to this, I had plenty of Android phones (and the only Apple product I ever bought in my life – an iPhone 5S), but hadn't really experienced the full potential of Android devices.
It was especially embarrassing since I work with Hardcore Droid reviewing Android-based video games. Since I only had the phones, my gaming experiences were rather limited. Upgrading to the Shield tablet allowed me to finally enjoy Android gaming.
While the Shield is an exceptional gaming tablet capable of amazing graphics, I quickly learned the battery could drain quickly. The PB13 powerbank soon became an essential Android gaming accessory, and it's only going to be more useful when I can charge both the Auravisor and Shield off of it.
I've come across several instances already where I plugged the Shield into my computer's USB 3.0 ports to charge, only to find the battery's charge level hadn't moved in an hour. This often happens because I'll get distracted during a game and throw the tablet into standby with everything still running.
The PB13 had no issues charging the Shield tablet from below 10% (I don't ever let it go empty) to 100% within 2 and a half hours. I don't have any scientific tests for how quickly it charges while using it because I'm usually too busy using it.
However, the NuCharger has proven itself a vital tool that has outperformed every other charger in daily use. It also came in handy while filming interviews and demos at CES.
So if you're looking for a way to extend your mobile gaming experience, I know of no better way to do it than with the NuCharger PB13 powerbank.
Purchase NuCharger PB13 (White) on Amazon – $49.99
Purchase Nucharger PB13 (Black) on Amazon – $49.99
---