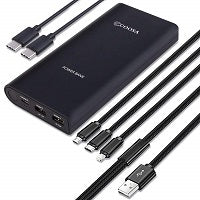 NuCharger PD 20100mAh 30W Power Bank Review
By
Adrian Ramos
  "
Making sure your devices have plenty of battery while you're on the go is a challenge that everyone faces. It becomes more challenging when there are no outlets available for a quick charge. In this video, we review NuCharger's 20,100 mAh power bank that helps solve this issue. Small power banks are great for a quick top off but sometimes you need more than a top off and more than just once. It becomes more demanding when you have several devices such as a smartphone, tablet, and laptop.
Features
【30W FAST CHARGE USB-C PORT】With PD 2.0 USB Type-C port, this portable charger supports 30W Power Delivery fast charging for iPhone X/10, 8/8Plus, the Macbook 2015-2017, Nitendo Switch and more; Fully recharging time is reduced to 3-4 hours due to Power Delivery 2.0 input (30W). (It could charge iPhone X 8/8 Plus up to 50% within half an hour and Nintendo Switch fully within 3 hours).
【PROTECTION w. AUTHORIZED CERTIFICATION】Overcharge and over-discharge protection. Input over voltage protection and output over voltage protection. Output current protection and short circuit protection. Automatic power-off.Compliant with CE, FCC, UN38.3. High quality assurance, just to give you more confidence in the experience.
【LARGE CAPACITY】20100mAh large capacity, Cylindrical lithium-ion battery.
【PORTABLE AND CONVENIENT】A size of only 22*11*2.5cm, making it more convenient to carry. and intelligent LED battery indicators is very helpful in your usage.
【HIGHLIGHTS】USB-C 2 Way Input/output 1: 5V/3A, 9V/3A, 15V/2A, support PD charging technology. Output2: USB-A, 5V/2.4A, support smart charging. Output3: USB-A, 5V/2.4A, support smart charging. Lightning, micro USB and type-C USB charging cable included.
Specification:
Material: ABS
 USB-C Input: 5V/3A, 9V/3A, 15V/2A
 Output1: USB-C, 5V/3A, 9V/3A, 15V/2A
 Output2: USB-A, 5V/2.4A
 Output3: USB-A, 5V/2.4A
 USB-A ports: 5V/2.4A
 Package Size: 22*11*2.5cm
 Weight: 387.5g
Package Includes:
1* Nucharger PD
 1* 3-in-1 micro, lightning and type-C USB charging cable
1*type-C to type-C charging cable
1* carry bag
---