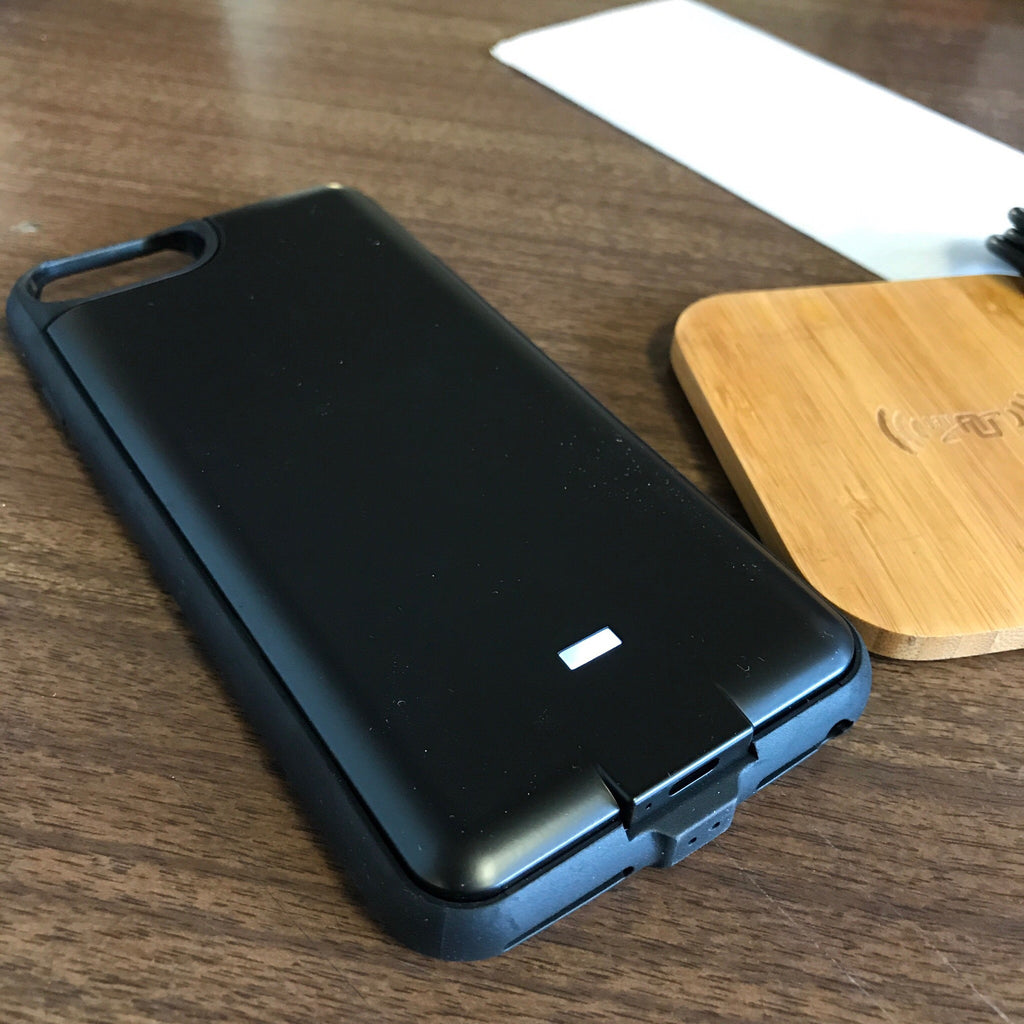 NuCharger QI5000 iPhone Qi Charging Battery Case Review by TechLifeGuru
See Original Post: NuCharger QI5000mAh WIreless Charging Battery Case for iPhone 7 Plus & Natural Bamboo Square Qi WIreless Charging Pad by Nunet
from technicalmizfits.com
Author: Tech Life Guru
Misfits!! What's goin on!? TLG here with some power tech for the iPhone users out there! It's a battery case that doubles as a wireless charging case. Paired with the Qi wireless charging pad its the near perfect solution for iPhone users that want wireless charging. Made by a company called Nunet over on Amazon and as usual its budget friendly tech!! I'll drop the link below after I tell you guys all about it. 
Packaged separately you have the NuCharger 5000 mAh battery case that comes with a tempered glass screen protector and offers minimal drop protection. The top is open partially. The natural bamboo charging pad comes with a micro usb cable and that's it. You have to use your own block or usb source of power. The case adds a little bit of bulk and weight to the iphone, but its no deal breaker in exchange for the power it provides when you need that extra juice on the go. The case charges the iPhone 7 Plus pretty fast and can charge it one and a quarter times before needing to be recharged. You'll have to charge the case with your own lightning cable by the way. You can charge the case and phone the at the same time too. 
The wireless charger does good and has a indicator light on the front the goes from red to green when you place your iPhone onto it. Here's the big question…how long does it take to charge the phone wirelessly? I don't really know! I only use it over night and I can say that it takes a few hours. However during testing I did notice a few one and two percent charges within a couple of minutes. 
The cutouts for the vibrate switch and camera are nicely sized and theres a headphone jack hole for an iPhone 6 Plus too!! There's one button on the rear of the case, the multi colored power indicator and power button. It has four color stages that show how much juice is left…
RED 0 – 25 % 
BLUE 26 – 50 %
GREEN 51 – 75 %
WHITE 76 – 100 %
So where do you get these things from? You're gonna need the NuCharger 5000 mAh wireless charger case:

<-Click Here

 
And the Natural bamboo charging pad:

<-Click Here

 both from Amazon.
If you wanna see it in action, here's a quick YouTube: <-Click Here video on it that yours truly made.  
As usual and until next time…
Thanks for the view and #staytechdup
---