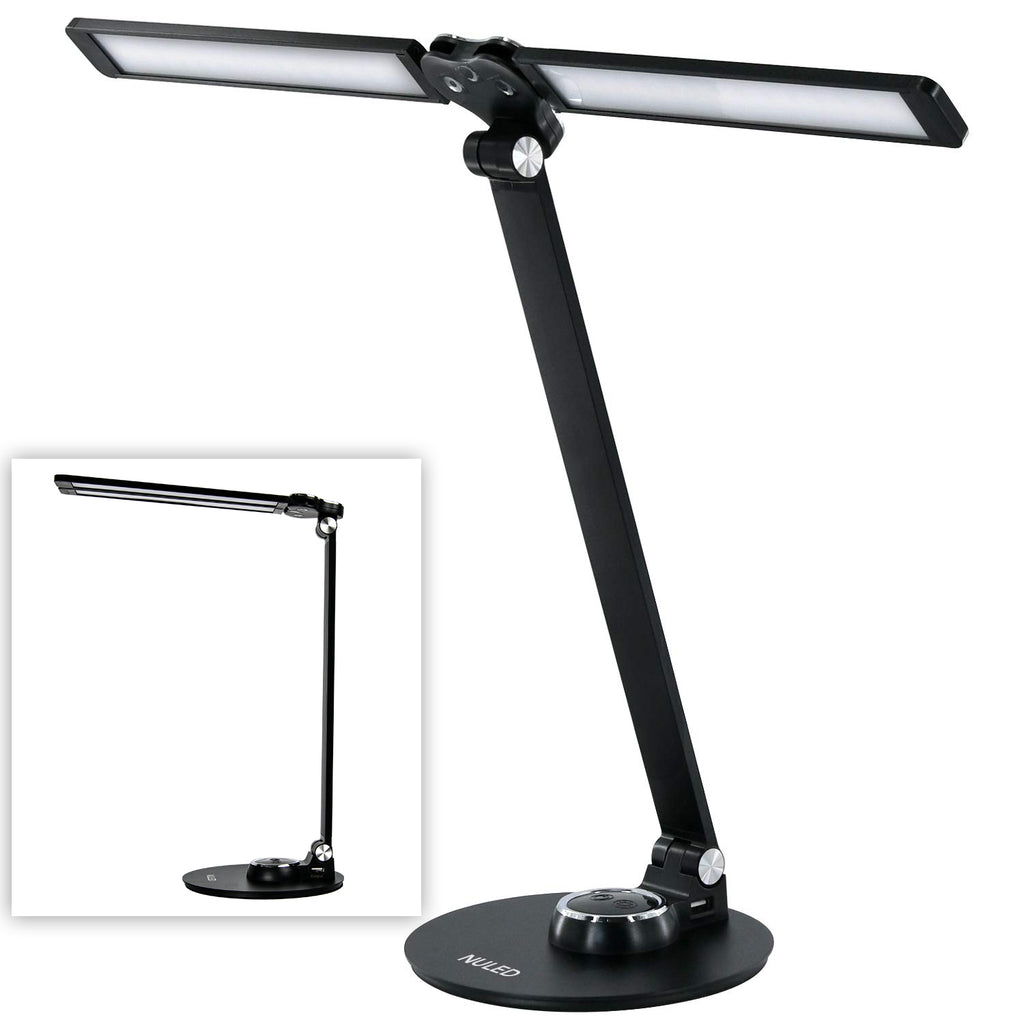 NULED Desk Lamp Review
Finding a good desk lamp is essential for anyone who works at their desk often. As someone who is always on the hunt for a good lamp that has solid lighting, I was happy to test out this NULED lamp. While I liked this lamp's LED lighting options and charging dock, the stand, unfortunately, would not hold fully in every position. However, if you're still looking for a LED desk lamp, let me go over everything you need to know about this one.
Out of the box
Right out of the box, the NULED lamp doesn't require any assembly to use. It's simply ready to plug in and use. It uses a USB cord to turn on and off instead of a traditional outlet, giving you more options if you're at a desk. A 10W or 5V 2A USB charger is recommended.
Using the NULED lamp
Once it's plugged in, the lamp ready to use. You simply tap the power button on the stand and it will turn on. From there, you can tap the lighting button to change lighting settings and find the one that works best for you. Like I said in the intro, the stand is pretty touch-and-go for me in terms of it actually staying upright, but I do see they have this mentioned in their Amazon description, "Choose Ship in Amazon packaging at checkout so the swiveling joints can get better protection from the heavy base in transportation and delivery," so it could potentially just be something that happened during shipping.
One thing also to note is that the lampshade is LED radiating aluminum and sits around 122 degrees Fahrenheit after about 20 or so minutes of use. This is not a temperature I would feel comfortable resting against something in my office, so just make sure it keeps a distance from anything important. Thankfully, only the top gets hot instead of the whole stand itself.
Lighting on the NULED lamp
There are three lighting options on the NULED lamp: bright, dim, or warm. This is one of my favorite features since it's nice to have different lighting options depending on the time of day and what you're reading. The warm lighting option was nice for some late nights when I needed to keep reading and working but didn't want to strain my eyes.
Overall rating: 6.5/10
Lighting options: 8/10
Stand build quality: 3/10
Rotation options: 6/10
Dimming options: 9/10
Features:
Three lighting options: bright, dim, warm
Charging port on bottom
Good for piano music
USB charging port
---