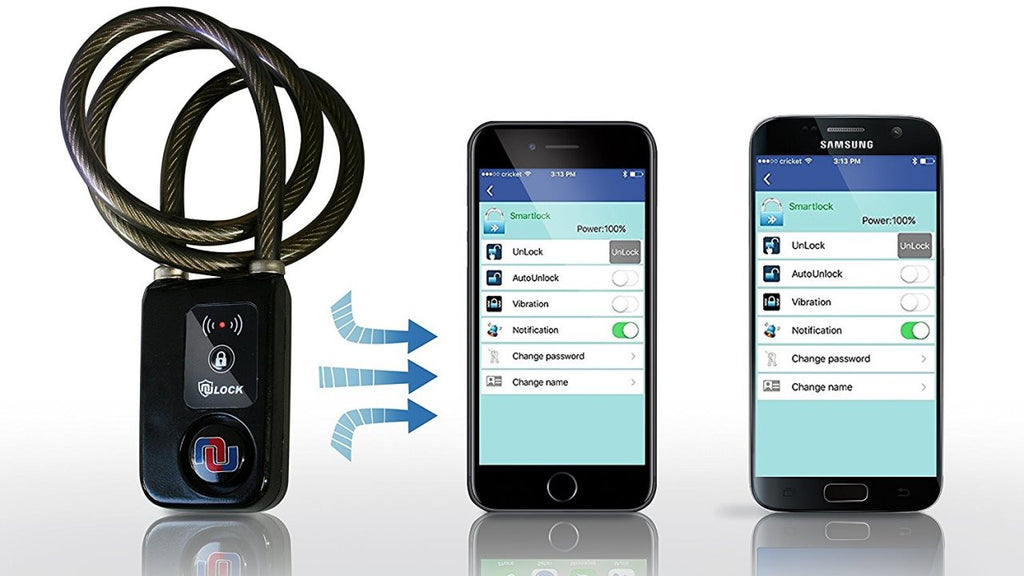 NuLock defies thieves, keeps your stuff safe
See Original Post: NuLock defies thieves, keeps your stuff safe
Posted by: Bob Difley
Though petty theft seems to be a fact of life, fortunately not all of us have been victims – yet. But it could happen to us anywhere, anytime, so most of us take precautions against thievery. However, our precautions are often half-hearted and frequently ineffective against the innovative thief class.
I was reminded of this when I read in a recent blog of a couple that had their bikes stolen right off the back of their RV in the dead of night while they were inside sleeping. I thought how vulnerable we all are, though I had never personally had anything stolen (my house was burglarized once, but not my RV), so I went online to find solutions that might work. That's when I discovered NuLock, and I asked the manufacturer for a working unit that I could review for RV Travel.
Keyless alarmed bike lock deters thieves
The feature that caught my interest was that if someone tried to steal the bikes from the couple that blogged about their loss, this might be the product that would have thwarted the theft. The NuLock looks like other heavy-duty cable locks, but with both ends of the cable inserted into a small black box. The manufacturer claimed that if the cable were cut, moved, or even fiddled with, a short 110dB screech would sound, warning the wannabe bicycle thief that he had better not mess with these bikes. If the vibration continued, such as the thief trying to figure out how to shut it off, it would then sound its classic screech for 30 seconds. This would certainly arouse sleeping owners or others nearby and the thief would likely fade into the night empty-handed. And if he so brazenly decided to try to cut the 10mm braided steel cable with bolt cutters the screech would sound and not stop until the owner's cell phone detected it within Bluetooth range.. Now, short of also extracting handcuffs and cuffing the thief, this looked like a pretty good deterrent and bike or generator or whatever protector.
But one of the really clever features of the NuLock is the accompanying smartphone app, whereby you can both arm and disarm the lock – and the alarm – from the app. Additional features include the option to automatically disarm the lock and alarm when the smartphone is near the lock, and a small red LED light that advises you when the lock is activated and blue when not, as well as indicating when the batteries are low and need to be replaced. You can turn on or off the automatic feature on the app, as well as manually activate or deactivate the alarm.
With the automatic feature turned on, you never need to fiddle with the lock. When you are nearby it deactivates, allowing you to open it and use whatever you had locked, and relock it and when you and your smartphone walk away, automatically reactivating the lock. However, one thing to keep in mind. If you are inside your RV and your bikes are locked to it, your smartphone may still be too close for the automatic feature to work, in which case you will have to manually arm and disarm the lock.
But with NuLock securing your valuable bikes you can now ride anywhere with the knowledge that your bikes are safely secured wherever you park them. Learn more and buy on theNuLock website or view their other products at the NuVending website.
SPECIAL OFFER: For a limited time NuLock is offering RV Travel readers a 20% discount on the purchase of  NuLock products (expires April 30, 2017). (There are two products currently in stock.) Proceed through the checkout on the buy page of their website and when you get to the "Customer Information" page enter the code NULOCKBOB in the "Discount" box on the right side and then click "Apply" and you will see your discount applied. Then continue on with checking out. UPDATE: At the moment these are already out of stock (overwhelming demand, apparently). We're checking with the NuLock people to see how soon they'll have more. We apologize for the inconvenience. Thank you for your patience in the meantime. SECOND UPDATE: NuLock says they do have plenty of these cable bike locks in stock — the website info just hadn't been updated. All orders placed this weekend will be shipped out on Monday, April 17. NuLock sincerely apologizes for the inconvenience. To compensate for this, they wanted us to let you know that they will include free batteries and a screwdriver in all NuLock orders placed by RV Travel readers, with the special promo code, by April 30, 2017. Thanks to NuLock for going above and beyond!
Also available on Amazon.com.
---